ABC Commissary
ABC Commissary Information
This Art Deco themed counter service restaurant features light colored woods accented by metallic trim. Posters pay homage to the entertainment industry and will transport you to the commissary of a real working studio lot.
Lunch is served as typical counter service. For dinner, you'll place your order, take a pager, and when your order's ready, it will be delivered right to your table!
Dining reservations for dinner can now be booked for dates beginning on June 2, 2019!

This location will be closed briefly for refurbishment from May 5-24, 2019.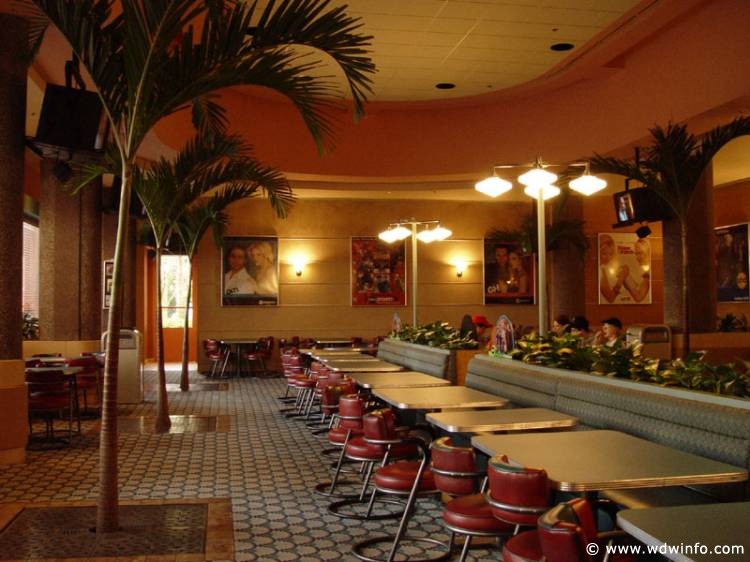 NOTE: All menu items/prices are subject to change
---
If there is an asterisk (*) below next to a menu item, this indicates that the meal is a buffet or that it's served family-style at your table. The price reflected is the total cost of the all-you-care-to-enjoy meal.
Please note that the pricing on buffet meals will vary slightly based on the time of year (peak season versus regular season), and day of the week (weekday versus weekend) that you visit. The pricing below is a general range for these meals, but if you need an exact figure, you may call Disney Dining at (407) WDW-DINE and they will provide an exact quote based on the date of your reservation.
All prices you see are subject to change and may vary slightly during your vacation.
Menu items are also subject to change without notice.
1/3 lb Angus Bacon Cheeseburger - on a toasted Kaiser Roll served with your choice of fresh Green Beans, Apple Slices or French Fries - $11.99
1/3 lb Angus Cheeseburger - on a toasted Kaiser Roll served with your choice of fresh Green Beans, Apple Slices or French Fries - $10.99
BBQ Rib Platter - House-made Dry-rubbed Smoked Pork Ribs in a Sweet BBQ Sauce served with Coleslaw and French Fries - $18.29
Chicken and Ribs Combo Platter - Smoked Barbecue Spare Ribs and Roasted Chicken served with Coleslaw and French Fries - $17.19
Chicken Club - Marinated Grilled Chicken Breast served on a Kaiser Roll topped with Bacon and Provolone Cheese served with Coleslaw and choice of Green Beans, Apple Slices or French Fries - $10.99
Fish and Shrimp Platter - served with Steak Fries and Coleslaw - $13.99
Mediterranean Salad - tossed in a Mediterranean Vinaigrette and served with Hummus and Flatbread - $9.99
Mediterranean Salad with Chicken - tossed in a Mediterranean Vinaigrette and served with Hummus and Flatbread - $12.99
Shrimp Platter - served with Steak Fries and Coleslaw - $12.49
Shrimp, Fish and Chicken Platter - served with Steak Fries and Coleslaw - $15.99
Vegan Burger - Vegan-friendly Burger topped with Lettuce, Tomato, Sautéed Peppers and Onions in a Balsamic Glaze, Vegan Mayonnaise Ketchup, Sriracha Mustard on a Brioche Bun served with French Fries - $12.99

Coleslaw - - $3.29
French Fries - - $4.49
Green Beans - - $3.29

Chocolate Mousse - - $4.99
No Sugar Added Strawberry Parfait - - $4.99
Olaf Cupcake - - $5.99

Assorted Fountain Beverages - Large - Assorted Coca-Cola® Offerings - $3.69
Assorted Fountain Beverages - Regular - Assorted Coca-Cola® Offerings - $3.99
Beso Del Sol Sangria - - $9.50
Bud Light - - $7.50
Coffee - regular or decaf - $2.79
Dasani® Bottled Water - - $3.00
Happy Daze - Parrot Bat Coconut Rum, Melon Liqueur, Banana Liqueur and Grenadine with Orange and Pineapple Juice - $9.50
Hot Tea - - $2.79
Lowfat Milk - - $2.69
Minute Maid® Apple Juice - - $3.29
Nestlé® Hot Cocoa - - $2.79
Nestlé® Nesquik® Chocolate Milk - - $2.69
Premium Hot Chocolate - - $3.29
Simply Orange® Orange Juice - - $4.29
smartwater® - - $4.50
Strawberry Lemonade Slushy - featuring odwalla® - $5.99
Woodbridge by Robert Mondavi Cabernet Sauvignon - - $8.00
Woodbridge by Robert Mondavi Chardonnay - - $8.00
Yuengling - - $8.00

---
BBQ Rib Platter - House-made Dry-rubbed Smoked Pork Ribs in a Sweet BBQ Sauce served with Coleslaw, Pickles and Steak Fries - $18.29
Braised Beef and Enchilada - Braised Barbacoa Beef served on Cilantro Slaw with a Roasted Corn and Cheese Enchilada topped with Fire Roasted Chipotle Sauce and Queso Fresco - $15.99
Chicken and Ribs Combo Platter - Smoked Barbecue Spare Ribs and Roasted Chicken served with Coleslaw and Steak Fries - $17.19
Chimichurri Steak - Flat-Iron Steak topped with Chimichurri Sauce served with Fire-roasted Corn Medley and Steak Fries - $17.49
Fish and Shrimp Platter - served with Steak Fries and Coleslaw - $13.99
Lemon Pepper Salmon - Seared Salmon served with Couscous and Sautéed Green Beans - $15.49
Mediterranean Salad - tossed in a Mediterranean Vinaigrette and served with Hummus and Flatbread - $9.99
Mediterranean Salad with Chicken - tossed in a Mediterranean Vinaigrette and served with Hummus and Flatbread - $12.99
Mediterranean Salad with Chicken - Grilled Chicken Breast on a bed of Fresh Mixed Greens with Cherry Tomatoes, Red Onions, Pepperoncini, Kalamata Olives and Feta Cheese tossed in a Mediterranean Vinaigrette, served with Hummus and Pita Chips - $12.99
Mediterranean Salad with Salmon - tossed in a Mediterranean Vinaigrette and served with Hummus and Flatbread - $13.99
Shrimp Platter - served with Steak Fries and Coleslaw - $12.49
Shrimp Teriyaki Bowl - Stir-fried Shrimp, Napa Cabbage, Snap Peas, Red Peppers, Carrots, Onions, Edamame, Shitake Mushrooms and Broccoli tossed in a House-made Teriyaki Sauce over Brown Rice - $14.49
Shrimp, Fish and Chicken Platter - served with Steak Fries and Coleslaw - $15.99
Southwest Burger - Premium Burger topped with Pepper Jack Cheese, Guacamole, Bacon, Lettuce, Tomato and Cheddar Jalapeño Poppers served with Steak Fries - $15.49
Teriyaki Vegetable Bowl - Stir-fried Napa Cabbage, Snap Peas, Red Peppers, Carrots, Onions, Edamame, Shitake Mushrooms and Broccoli tossed in a House-made Teriyaki Sauce over Brown Rice topped with Crushed Cashews - $12.99
Vegan Burger - Vegan-friendly Burger topped with Lettuce, Tomato, Sautéed Peppers and Onions in a Balsamic Glaze, Vegan Mayonnaise Ketchup, Sriracha Mustard on a Brioche Bun served with French Fries - $12.99

Cheddar Jalapeño Poppers - Cheddar Jalapeño Poppers served with Ranch Dressing - $5.49
Couscous - - $3.29
Fire-roasted Corn Medley - - $3.29
Green Beans - - $3.29
Hummus and Flatbread - Hummus served with Flatbread - $5.49
Southwestern Steak Fries - Signature Southwestern Steak Fries dusted in Chili-lime Seasoning finished with Chipotle Aïoli Drizzle and Queso Fresco - $5.99
Steak Fries - - $4.49

Apple Almond Tart - Tart filled with Sweet Almond Pastry Cream topped with Sliced Apples and an Almond Glaze garnished with Sliced Almonds - $4.99
Chocolate Mousse - - $4.99
Olaf Cupcake - - $5.99

Assorted Fountain Beverages - Large - Assorted Coca-Cola® Offerings - $4.49
Assorted Fountain Beverages - Regular - - $3.99
Bud Light - - $8.00
Coffee - regular or decaf - $3.29
Dasani® Bottled Water - - $3.50
Happy Daze - Parrot Bat Coconut Rum, Melon Liqueur, Banana Liqueur and Grenadine with Orange and Pineapple Juice - $10.50
Hot Tea - - $3.29
Lowfat Milk - - $2.99
Minute Maid® Apple Juice - - $3.99
Nestlé® Hot Cocoa - - $3.29
Nestlé® Nesquik® Chocolate Milk - - $2.99
Premium Hot Chocolate - - $3.29
Simply Orange® Orange Juice - - $4.29
smartwater® - - $4.50
Strawberry Lemonade Slushy - featuring odwalla® - $5.99
Watermelon Margarita - Summer Classic Margarita blended with Patron Tequila, Sweet and Sour and Watermelon flavors over Ice - $13.00
Woodbridge by Robert Mondavi Cabernet Sauvignon - - $9.00
Woodbridge by Robert Mondavi Chardonnay - - $9.00
Yuengling - - $8.50

---
ABC Commissary
Child's Menu

Carved Turkey Sandwich - served with Carrot Sticks, Apple Slices and choice of small lowfat Milk or small Dasani® Water. Meets Disney Nutrition Guidelines for Complete Meals without substitutions - $6.99
Cheeseburger - served with Carrot Sticks, Apple Slices, and choice of small Lowfat Milk or small Dasani® Water - $7.19
Chicken Strips - Chicken Strips served with Sautéed Green Beans and Fries and choice of small lowfat Milk or small Dasani® Water - $7.49
Mac & Cheese - served with Carrot Sticks, Apple Slices and choice of Beverage - $6.99
Smucker's® Uncrustables® Sandwich - served with Carrot Sticks, Apple Slices and choice of Beverage - $6.19

---
BBQ Quesadilla - BBQ Quesadilla - $6.99
Cheeseburger - Cheeseburger served with Sautéed Green Beans and Steak Fries and choice of small lowfat Milk or small Dasani® Water - $7.49
Mac & Cheese - served with Carrot Sticks, Apple Slices and choice of Beverage - $6.99
Salmon - Seared Salmon served with Couscous and Sautéed Green Beans and choice of small Lowfat Milk or small Dasani® Water. Meets Disney Nutrition Guidelines for Complete Meals without substitutions - $7.99
Smucker's® Uncrustables® Sandwich - served with Carrot Sticks, Apple Slices and choice of Beverage - $6.19

---