Epcot - The Land
---
The Land Pavilion Overview
Year Opened: 1982
Fun Fact: At nearly 6 acres, this pavilion is the largest in Future World.

The Land is home to one of Epcot's most popular rides, Soarin' Around the World. This is one ride that you want to get to as early as possible to avoid the long lines. You definitely will want to take advantage of securing a FastPass.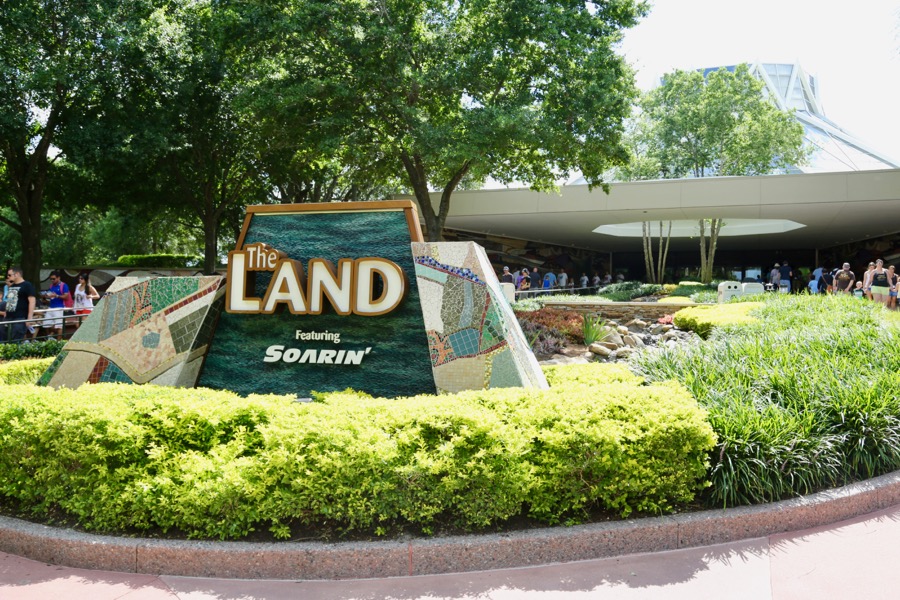 The Land is also home to the Living with the Land boat ride, Behind the Seeds Tour, Garden Grill restaurant and the Sunshine Seasons Food Court.
The Circle of Life: An Environmental Fable had its last showing on February 3, 2018 and Disney has announced that they are adding Awesome Planet to take its place. The new film will give "an on-screen exploration of the realm we call home, showcases the spectacular beauty, diversity and dynamic story of our earth with all the grandeur guests have come to expect" and will begin welcoming guests in January 2020.
TIP: The Sunshine Seasons food court is one of the best food courts at Walt Disney World. Lunch/dinner is available at the Asian Wok Shop, Sandwich Shop & Bakery, Soup & Salad Shop and Wood Fired Grill Shop. In addition, there's a large amount of seating in the pavilion.

Garden Grill
For a sit down meal, the Garden Grill offers fresh American cuisine served family style. 
A relaxing 13-minute boat ride takes you on an informative journey through a tropical rain forest, an African desert complete with sandstorm, and the windswept plains of a small, turn-of-the-century family farm. Guests experience the struggles of the past and plans for farming in the future including Hydroponics, Aeroponics and Aquaculture. It's not just about fruits and veggies, fish farms are on display.


FUN FACT: If you are enjoying fresh vegetables or fish at an Epcot restaurant, it's likely that they were grown right here.
Since The Land is a Disney restaurant supplier, You could very well be seeing your entreé. Wonder where those Mickey shaped cucumbers in your salad came from? This is where they're grown.
The educational content on this ride is geared more towards adults, but younger guests will love the boat ride and spotting the different fruits and vegetables.

Fastpass: Yes
Handicapped Accessibility: Guests in ECVs must be able to transfer to a wheelchair.
Departing every 45 minutes from 10:30am - 4:30pm
Cost (including tax, theme park admission required):
$25.00 Guests ages 10+
$20.00 Guests ages 3-9
To book in advance call (407) WDW-TOUR
This guided tour will appeal to gardeners. The tour is an up close look at four greenhouses that are part of the Living with the Land attraction. Behind the Seeds is led by a member of the Epcot Science Team. Highlights include:
Sensory challenge with herbs/spices
Lady bug release
Vegetable taste test
Fish feeding
Sprouting a seed in your pocket to bring home
Latest gardening tips
Seeing how exotic crops and gigantic fruits and veggies are grown without soil
-Cameras are welcome.
-Children of all ages can participate. Strollers will be provided when needed
-Wheelchair accessible but ECV users must transfer to regular wheelchair